January 2, 2021 - We are very sad to say goodbye to our friend and bandmate Aaron Wegelin. Aaron toured the world with Elf Power and played on 5 of our early albums from 1996-2004. He later moved to Los Angeles and was a chef for many years. He was a master chef, specializing in Asian cuisine, and cooked some of the most delicious meals I've ever eaten. He recently had moved back to Athens and we had the chance to collaborate musically one last time to finish a long abandoned song that we started recording in 1997, with all of the bandmembers from that era adding overdubs and finishing the song. We'll be using it as a bonus track for an upcoming vinyl reissue of one of our old albums. It was really nice to be able to reconnect musically again. Aaron's drumming on the records and live was tasteful and nuanced; he knew when to hold back and tap along lightly and when to ferociously beat the shit out of the drums, often in the same song! I'll miss his giggly laugh when he would get excited, his delicious meals, and his generous and kind spirit. We love you and miss you old friend.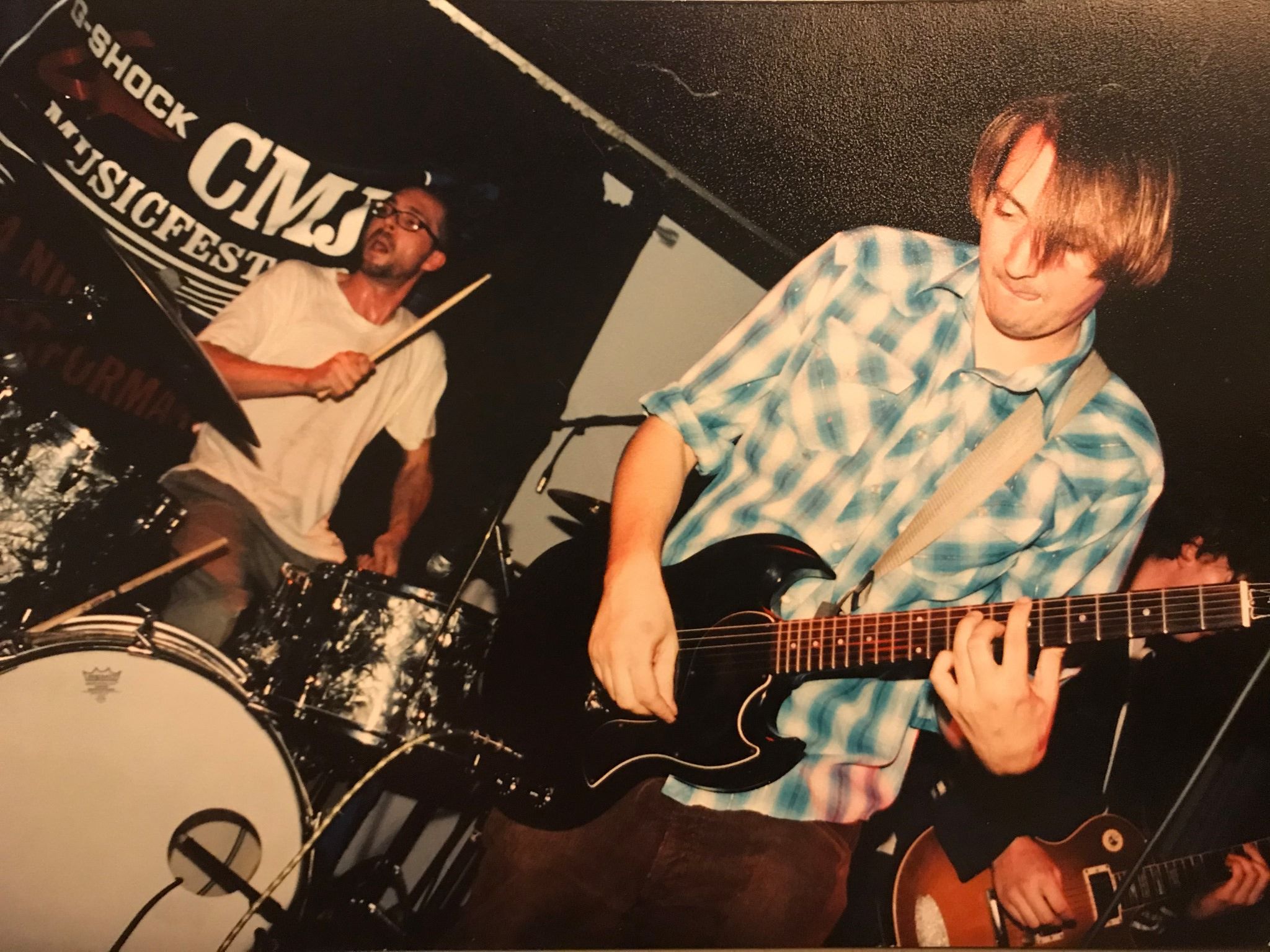 January 29, 2020 - We're hard at work writing and recording new music for a new album, and playing some regional shows as well. Feb. 14 we help to celebrate the 20th anniversary of the legendary Flicker Theatre and Bar in Athens, GA with a free show there, also featuring Scott Spillane and Deep State! March 5 we're playing the Savannah Stopover Festival in Savannah, GA. Come on out!

March 6, 2019 - We're excited to be going back to play the Egersund Visefestival in Egersund, Norway for the second year in a row this year, July 4-6 2019! This year we'll be playing a set of Elf Power songs, and we'll also back Robyn Hitchcock on a set of his songs! Our pals in Ladybug Transistor and Essex Green will be playing this year as well! More summer European tour dates coming soon!

September 10, 2018 - We're playing a few shows in the Fall, including another show opening for and backing Robyn Hitchcock. Click here for our Fall dates.

May 22, 2018 - We're headed back to Europe this summer to play at the Creepy TeePee Festival in Prague, as well as club shows in Austria, Germany, and Holland! More European shows to be announced soon! Click here for the dates.

May 5, 2018 - We're playing some festivals in our hometown of Athens, GA this summer, starting with a co-headlining show on the Athfest Mainstage on June 24 (playing a full set), and also closing out the first night of Athens Popfest on Aug. 8 at Little King's! More shows to be announced soon!

March 3, 2018 - We're playing a few shows in April, click here for the dates! Also, you can hear our recent performance backing Robyn Hitchcock at Southern Shelter.

September 26, 2017 - Elf Power is playing a few festivals in the next few months! October 14 we will be at the free outdoor Jam Room Music Festival in downtown Columbia,SC alongside Guided By Voices, Hiss Golden Messenger, and many more: jamroommusicfestival.com. Then on January 19, 2018 we'll be playing alongside Camper Van Beethoven and Robyn Hitchcock at Camper Van Beethoven's annual Camp In Festival at the 40 Watt Club in Athens, GA!

May 12, 2017 - Our new album "Twitching in Time" is out now on Orange Twin Records. Click on Stereogum, Tiny Mix Tapes, Surviving The Golden Age, Austin Town Hall or Brooklyn Vegan to hear what some people are saying about it. May 2017 and July 2017 tour dates with Tobin Sprout and more are posted now as well.

April 20, 2017 - Check out two new tracks now from our forthcoming album "Twitching in Time" due out May 12 on Orange Twin Records. Click on Brooklyn Vegan or NPR to listen to a new track Halloween Out Walking and to see the video for Watery Shreds. May 2017 tour dates with Tobin Sprout and more are posted now as well.

February 23, 2017 - Our new album "Twitching in Time" is out May 12 on Orange Twin Records! Co-headlining tour with Tobin Sprout (of Guided by Voices) starting in May! More dates to be announced soon! Click here for tour dates.

December 6, 2016 - Elf Power is playing 2 shows in Atlanta,GA Feb 3rd and 4th at 529! Click here for more info... New album coming in May!

May 28, 2016 - We're playing some music festivals in Athens,GA this summer as we continue recording our upcoming album! Athfest in June and Athens Popfest in August! See live shows page for details.

November 16, 2015 - Elf Power has begun recording our new album in Athens,GA at the Glow Recording Studio as well as our home studio. Some amazing sounds are being generated, hopefully we will unleash them upon the world before too long! In other news, Elf Power main man Andrew Rieger has a great article coming out in the December issue of Oxford American Literary Magazine for their Georgia Music Issue. He writes about his infamous list of every concert he's ever attended, that he's been keeping since 1983, citing and discussing some memorable examples! Elf Power also has a song on the CD accompanying the issue. The band will also be performing at the magazine's release party at the Georgia Theatre in Athens,GA on Dec. 9. Come celebrate with us!

January 19, 2013 - More shows have been announced with Neutral Milk Hotel for 2014! Click here for the dates! Elf Power has also made another new video. This one is for the song "Transparent Lines" and it stars Naomi Merchant. Watch it here.

December 2, 2013 - Lots more shows with Neutral Milk Hotel for 2014! Click here for the dates! Also, Elf Power will be performing a few Lou Reed songs at this tribute/benefit for AIDS Athens happening Friday December 20th at The 40 Watt Club in Athens. Admission to this show is only $5! There's also a new Elf Power video for the song "Darkest Wave" off the Sunlight On The Moon album. Check the new video out here.

September 29, 2013 - Listen to the new album on NPR! Sunlight On The Moon streaming on NPR

May 9, 2013 - Neutral Milk Hotel / Elf Power show dates announced for October! Click here for the dates! New Elf Power album out in October also, and more headlining Elf Power shows to be announced soon for America and Europe! Come see us!

March 21, 2012 - Andrew Laura and Scott are playing some more shows opening for Jeff Mangum, this time heading out west to Oakland, Seattle, Portland, Los Angeles, Denver, and Austin. They'll be playing a mix of Elf Power and Gerbils songs, along with some covers. Click here for the dates!

January 5, 2012 - Andrew, Laura and Scott Spillane just added some more dates in Minneapolis, Chicago, and Milwaukee opening for Jeff Mangum...They'll be playing some Elf Power and Gerbils classics as well as some cover songs... Click here for dates.

November 27, 2011 - Elf Power will be joining The Whigs at the 40 Watt in Athens,GA on New Year's Eve 2011!... Also don't miss Andrew and Laura along with Scott Spillane playing the songs of Elf Power and Gerbils opening for Jeff Mangum at some more of his solo shows in early 2012. And the whole band will be performing as part of the Elephant 6 Holiday Surprise at the rescheduled All Tomorrow's Parties Festival in England in March. Click here for dates.

July 21, 2011 - Andrew and Laura will be joining Scott Spillane as an acoustic trio (playing Elf Power and Gerbils songs both old and brand new) opening for Jeff Mangum at a few shows in America and Canada this summer. Also don't miss the whole band playing Elf Power music as part of the Elephant 6 Holiday Surprise at the Jeff Mangum curated All Tomorrow's Parties Festival in the UK in December. We are really excited to be playing here alongside some of our all time favorites: Boredoms, The Fall, Robyn Hitchcock, Raincoats, Tinariwen, Jeff Mangum, Olivia Tremor Control, Apples in Stereo, A Hawk and a Hacksaw and many more... damn this is going to be fun! Hope to see you at some of these shows. Click here for dates.

January 14, 2011 - Thanks to everyone who came out to the shows in America and Europe this past fall, the shows were amazing! Coming up in February and March we'll be touring all over America again as part of the Elephant 6 Holiday Surprise tour. These shows are selling out fast, so contact the venues about getting tickets now if you want to see this. The tour in 2008 was really something special for the musicians and audiences alike, so don't miss it this time around! Click here for tour dates.

November 11, 2010 - Elf Power is coming back to Europe in November-December 2010 with Madeline as the opening act! Click here to see tour dates.

September 10, 2010 - New ELF POWER album out this week and US tour starts up too. We'll be touring the US East and West until November. Click here to see tour dates... European dates to be announced soon!

June 23, 2010 - New ELF POWER album out September 14, 2010
We are excited to announce that Elf Power's new eponymously titled album is coming out on September 14th on Orange Twin Records! U.S. and European tours are planned for the fall... dates and more info coming soon!

March 20, 2010 - Covers Galore
Check out our cover of the Apples in Stereo song "Strawberryfire" on a limited edition EP from Yep Roc Records. Also our cover of Jesus and Marychain's "Upside Down" will be on a Creation Records tribute album out soon, and we're also doing a Guided by Voices song for an upcoming tribute album.

December 25, 2009 - Vic Chesnutt (1964-2009)
Vic's Obituary in the New York Times
I became a fan of Vic's music when I was still in high school in the late 1980s, so when we became friends and decided to collaborate on an album together I was thrilled. Vic wanted a spontaneous reaction on our part to his songs, so he would play us a song, we'd run through it a few times, record it and move on. I would ask him if I could take home demos of the songs to practice and come up with parts, but he wouldn't allow it. Following the album's release in the fall of 2008, we toured all over America and Europe and had some amazing adventures. I saw Vic talk his way out of getting arrested for shoplifting in a gift shop in Madrid; I watched him sing karaoke to Randy Newman's "Short People" in a hotel bar at an Econolodge in Lawrence, KS to the hoots and hollers of several drunken yokels; we watched sea lions cavorting and howling in an underground sea cave in California; we played with John Cale, who we both love, at a festival in Holland; and we played Carnegie Hall together earlier this year. Vic was notorious for making up really nasty, sexually obscene songs at soundchecks to lighten the mood. I thought he'd hold back at Carnegie Hall, but he came through with a particularly profane spontaneous ditty that night, much to our delight. I miss him so much and I'm so glad we had a chance to create music together and travel the world together.

You are the greatest songwriter and singer to ever come out of Athens and it was an honor to play with you. I love these lyrics of Vic's about water (this is from memory so it may be a little off):

The same water that the dinosaurs drank
is the same water that the Persian fleets sank in
the same water that moistened the primordial ooze
is now hammering on my metal porch roof

-Andrew

You set my standard for cool
And through amazing conversations
You've made me work to be smart and dynamic.
In the best ways.
You are the funniest motherfucker
I've ever known.
Except for Curtiss.
Y'all are tied.
But that's the top and anyway you brought us together.
You brought so many people together.
I'll always be grateful and keep you strong in my heart. You are the coolest.
I love you.

-Laura

The thing I miss most about Vic, more than the magic of playing his songs, is the conversations. Like me, he was an atheist raised in the backwoods, a distinctly irreverent breed. His perspective meant a great deal to me, and I was deeply fascinated by his stories of artistic self-discovery in the midst of that upbringing. On tour, I stayed up later and allowed myself to get drunker than usual every night just to talk and listen. He was my new friend and hero. Laughing and worrying about the extremes of political belief and delusion, the evil brilliance of Dick Cheney, constant critical analysis of shitty music and great music, The Beatles, endless recommendations of favorite literature, recounting scattered personal histories and formative Athens experiences and, hell yeah, jokes and jokes and jokes, on and on and on. They're conversations I'm still having.

-Derek

Vic could fly. I've seen him do it. Anytime there was a set of stairs or a stage we had to lift him up onto, while we would hoist him, he would stick his elbows out and flap away as he elevated. This always made me smile. It made him smile, too. If we had to carry him in public, he also thought it was funny to look at us and say, "Who are you people? Where are you taking me? Help!" I feel fortunate to have spent so many happy days with Vic. I think it was his sense of humor, so much like my own, that made us click and become such quick friends. He was an intelligent man who could hold his own in a conversation about anything with anyone, but he also had a fondness for crude humor and wasn't afraid to chuckle at childish nonsense.

Over the past couple of years, we shared several months of amazing adventures, the kind of days that seem like dreams. We walked together at night along the beach in Oregon. We traversed the Swiss Alps in the middle of winter. We jammed karaoke at a hotel bar. We feasted like kings. We played music together in some of the best venues in the world. Vic always managed to surprise me, too. One late night, I ran into him randomly in Athens and asked him if he wanted to go to the Secret Squirrel with me, and though I didn't really expect him to say yes, he did. Another time in Ravenna, Italy, Eric and I were walking around the town in the early morning, assuming that Vic was still asleep, and then we suddenly see Vic being pushed around by a fan from the night before. Apparently this fan had offered to take him on a tour of the city and Vic got up early and took him up on the offer.

I will always remember Vic as a sweetheart who was funny and witty and passionate. It constantly impressed me and inspired me to watch him rock a guitar. I feel grateful that I got to hang with Vic in his element. Only he could trust me enough as a guitarist to demand a guitar solo out of me unannounced in the middle of a live set. "Give us a nasty one, Jimmy!" he would say. And I wouldn't even question it. He kept calling for it night after night, even if the solo was bad the night before. And I have never seen anyone capture a crowd, whether with humor or drama, like he could. Downtime in a set was his plaything. A heckler was his plaything. Sometimes, when we brought him onstage, the house music would go down and there would be 5–10 long minutes of awkward silence because Vic still needed to plug in and get situated. We would offer to communicate to the soundman to put the music back up, but Vic would say no, and embraced the awkwardness, addressing the audience with humor. He'd say, "Where's the muse-gik" meaning "music" but saying it in a funny childlike accent. Then he'd talk and joke with the audience while he tuned and got comfortable. By the time he played the first note, he had already warmed up the crowd. He was a poet and a self-proclaimed diva, a great entertainer and a loving friend.

I love you, Vic. I hope that I was able to give you enough laughs and good times to amount to even a fraction of those that you gave me.

-Jimmy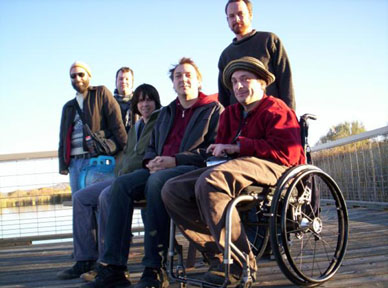 December 9, 2009
Hope you enjoy these videos that Jimmy made from our 2009 European tour with Vic Chesnutt: Elf Power Video Page... We start to record our new album in January, and hope to have it out later in 2010...we also recorded a very slow and strange version of the Apples in Stereo's song "Strawberry Fire", to be released as a free single with the new Apples record when it comes out next year...more info on that later.

September 3, 2009 - Orange Twin Land Show with Neil Hamburger!
Orange Twin and Elf Power are excited to announce our Fall Festival! The event will take place at the Orange Twin Conservation Community in Athens, GA, and will have performances from Neil Hamburger, Vic Chesnutt, Elf Power, Nana Grizol and Scott E. Spillane EXP. Tickets cost $12 and are available at the Orange Twin Online Store, as well as Wuxtry records and Schoolkids records in Athens. The event is being held in conjunction with the AUX Festival which is bringing the legendary group Faust as well as Athens' own Circulatory System to the 40 Watt Club on Saturday, October 10, as well as a workshop with Faust on Sunday, October 11. Camping will be available at the Orange Twin Land for the entire weekend. Please join us for this glorious event of psychedelia and comedy. We are very excited for the whole weekend. For more information visit the Orange Twin website.

December 12, 2008 - American and European Tours 2009
Our tour with Vic Chesnutt continues up and onward in January as we head to the icy northern and midwestern regions of America...then in March we're playing at Carnegie Hall for an REM tribute show, then off to Europe again to play shows in Holland, Belgium, France, Switzerland, Italy, UK, and our first ever shows in Finalnd! Hope to see ya out there

September 10, 2008
It's a busy fall season for the Elves, as we bring the tunes to you worldwide. We're playing a bunch of shows in Spain and Portugal with Vic Chesnutt in September . In October, members of Elf Power will be joining others to bring you the Elephant 6 Holiday Surprise Tour performing the songs of The Music Tapes, The Circulatory System, Scott Spillane, Gerbils, Elf Power, Olivia Tremor Control, Nana Grizol, Pipes You See, Pipes You Don't and more on the east coast and midwest of America, and then in November Elf Power joins Vic Chesnutt again on a tour of the west coast...

August 28, 2008
We're extremely excited to announce the release of our collaboration record with Vic Chesnutt , entitled "Dark Developments" on October 14 on Orange Twin Records...We'll be taking it to the streets with a tour of Spain and Portugal in September , American dates in Novemeber, and a whole lot more touring planned in the new year.....

We also have a new 10" single out for you vinyl collectors. It is two new songs "Venus And Mercury" and "Mutiny". LImited Edition Pressing of 575. Find out how to get one at These Are Not Records

May 26, 2008 - Festivals and Tours Galore!
Elf Power will be rocking lots of festivals and club shows all across the globe this summer including Pitchfork Music Festival at Chicago's Union Park (7/19), Athens Popfest at Athens,GA's 40Watt Club (8/16), Sweden's Emmaboda Festival (7/31), Athfest at Athens,GA's Georgia Theatre (6/20) and Macon,GA's BraggJam Festival (7/26)....We'll be doing a bunch of club shows on the east coast and midwest in July with our pals Ham1 opening, and then we're off to Scandinavia...unfortunately,we've had to postpone the UK dates for now...also, we're excited to announce a hometown show with our friends Gnarls Barkley at the 40watt in Athens,GA to kick off Athens Popfest week on Aug 12, tickets go on sale Tueday July 29 at Schoolkids Records in Athens...Then on October 14 we'll be releasing our collaboration album with Vic Chesnutt, "Dark Developments" on our own Orange Twin records and have some exciting touring plans with Vic to announce in the near future.......


April 10, 2008
Howdy Folks,
Our tour is going great! Thanks to all the lovely people who've been coming out to the shows who we've had the pleasure of rocking thus far. The tour continues on through early May, then we're going to be doing a bunch of festivals as well as club shows in both America and Europe this summer....more info on all that soon. And then in the fall our collaboration with Vic Chesnutt will be out on Orange Twin Records, and we'll hopefully be doing a bunch more touring in both America and Europe then... whew!
andrew


March 24, 2008
Our new album, In A Cave is now available for pre-order at Insound!

Receive the entire album as a download the moment you pre-order. Then, get the actual CD delivered to your doorstep on release date (March 25th).

Read more about this plus our March/April tour at Pitchfork.

See you soon!


March 19, 2008
Hello everybody,
Big news... our new album "In A Cave" will be out on Rykodisc on March 25th 2008. We just got back from a sucessful trip to SXSW where we played a bunch of shows debuting the new songs. Our official US tour will kick off April 2nd through the early part of May (tour dates posted now) and we'll be hitting the US East and West and many points inbetween. Come out to see us if we're hitting a town near you and be sure to check out your local record store on March 25th to pick up your very own copy of Elf Power's "In A Cave". In the meantime, here's an Elf Power interview from SXSW and we'll be posting more reviews in our media section soon. Also coming soon, European tour dates scheduled for this summer and a joint release with Vic Chesnutt due out in the fall... stay tuned.


May 18, 2007
Hello folks...
it was great to see everyone on our spring tour , thanks for comin out, it was a blast....we're playing some free shows in Florida with Man Man in June, so if you're in the area come see us then...


Mar. 15, 2007
Hello everyone,
The band will be back on the road for a springtime tour. Come on out and see us! We're also recording 2 albums this year. Right now we're in the midst of backing up our pal Vic Chesnutt on an album of his songs and then we'll begin recording the next Elf Power album this summer.
andrew


Sept. 1, 2006
Hello folks,
The Elves are heading back out on the road this fall. 33 shows in 33 days. We're sure to be a well oiled rockin machine by the time we hit your town... come see us!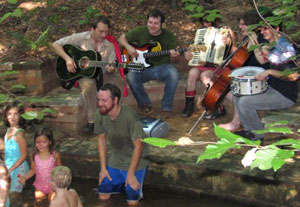 ....And thanks to all the kids who came out for our performance on Pancake Mountain. It was quite a shindig...
Andrew


June 13, 2006
Thanks to everyone who came out to the shows in America and Europe this past spring. It was a wonderful time and we'll be doing another big tour in the fall, starting in September. Till then we'll be doing some shows this summer.
Andrew


April 25, 2006
The new album "Back to the Web" is finally out today! The response thus far has been amazing. Thanks to everyone for all your support.

Our 3-week US tour also begins today. Come out to see us if you can. Our friends The Instruments will be opening on most of the dates. And we added two last minute shows in Rapid City, SD(5/7) and Missoula, MT(5/8). European tour dates should be finalized this week. In addition to the shows in the UK and Netherlands, that are already confirmed, we hope to confirm shows for Sweden, Belgium, Germany, Slovenia, Croatia, Spain, Denmark and Iceland. Check back soon!

Also,we are excited to announce we will be performing on the amazing kids' TV show "Pancake Mountain"...check it out at www.pancakemountain.com.
Andrew


April 3, 2006
Hey everybody,
Elf Power is hitting the road once again, playing all over America and Europe from late April-late June. If we skipped your town this time, not to worry, we'll be doing a more extensive American tour starting late summer/early fall. We're excited to get back out and see you all again soon!
Andrew


January 28, 2006
Hey folks,
Elf Power will be playing at the All Tomorrow's Parties festival in the UK on May 21. This show is being curated by the Shins and we are excited that they invited us. Should be a good ol' time. Then we'll be continuing on for 3 weeks or so, all around Europe. Check back for full tour dates soon... Andrew


January 22, 2006
Hello again friends...
sorry it has been a while since we had an update on the website. We've been very busy getting the new album finished up and ready to go. It's called "Back to the Web", and it will be released worldwide on April 25. We're happy to be releasing the record on Rykodisc, who've put out some of our all time faves (Eno, Robert Wyatt, Nick Drake, Flaming Lips, etc.). I must say, we're really happy with the way this album turned out. It's definitely a new and exciting direction for Elf Power. I won't try to describe it here, but all the response thus far from friends and fans who have heard it has been very positive...

We will have some songs up for listening around the beginning of February on our new Myspace page (www.myspace.com/elfpowerband)...

We will be playing at SXSW in Austin this year and a big worldwide tour will start in April. We have some upcoming shows listed now on the site, check back periodically for updates....

We are also filming an episode of the TV show "Music Road", a live music show on TBS. We'll be playing a few songs off of the new album , and we'll also be backing the wonderfully amazing Vic Chesnutt, doing about 8 songs of his from all phases of his career. When we have more info about when this is airing I'll let you know!
-Andrew


August 9, 2005
Hi everybody,
we've been holed up all summer recording our latest masterwork, and though we've still got a ways to go before it's finished, it's sounding pretty great thus far....This time out we're joined by our old cohort The Late BP Helium back on bass for the first time since "Winter is Coming" came out in 2000. We've also got John Fernandes of The Olivia Tremor Control and Circulatory System fame playing lots of violin and clarinet, Jimmy Hughes on guitar, Heather McIntosh on cello and new drummer Josh Lott. Hope to have the album out early next year. We'll be playing some shows this fall with a bigger tour next year when the album comes out, so check back periodically for tour dates.....Andrew


March 1, 2005
Hello everybody,
We're excited to be playing with the newly reanimated Olivia Tremor Control on April 15 at the 40 Watt Club in Athens, GA. Don't miss this one, it'll be a scorcher. Also, we're hoping to record a new album this summer/fall. So in all likelihood, it should be out early next year... Til then, check the site for live show listings. Allrighty then... Andrew


September 26, 2004
Hey everybody,
we'll be on tour throughout October and November. more dates in november coming soon....The Late BP Helium (the band) will be playing all shows in November as the opening act....The Late BP Helium (the man) will be back on the bass guitar with Elf Power for all the shows this fall. It's been a few years since he's done a tour with the band, so we're excited to have him back on board again...See you all soon I hope... Andrew


August 26, 2004
Elf Power will be touring throughout the east coast/midwest/southeast in October & November. Hope to see you all at the shows!"


April 22, 2004
Spanish tour dates added!


April 8, 2004
West Coast US tour dates added! We'll be bringing our friends the Summer Hymns along with us for that portion of our travels.


April 6, 2004
The album is released today on Orange Twin Records! Tour starts next week!


March 31, 2004
The new album "Walking With The Beggar Boys" is also being released in Spain by Grabaciones En El Mar and we'll be touring there in June.

And next week we're going to be starting off the east coast tour with our friends Zumm Zumm. So check out the tour page for the latest updates.


March 4, 2004
We've got some of the tour dates for the east coast up now. there's more to be confirmed, so check back soon. we'll also be heading out to the west coast in May, touring in Spain in June and then doing a tour in Europe in the fall.

oh, and we've got some new t-shirts in the Orange Twin store.


February 8, 2004
Here's a sneak preview of a song from the new record. Enjoy!
Never Believe MP3

And for those of you in Australia...our new album, "Walking With The Beggar Boys" will be released in there on March 1st by
Low Transit Industries!